Producers

The Cinemarquee grew out of a vision that two young men had as they analyzed the internet in 1997. Drawing together the finest cinema and literary resources to be found on the net, they sought to build the structure of an online film studio, with all that a visionary might need to carve his cinematic vision into reality, from film financing, to casting directors, to crew. John Edgerton a sometimes dreamer, a screenwriter/film fundraiser, former property master and set decorator in Hollywood sought to bring his dream to life, meeting up with ingenious computer programmer and computer problem solver Dan Greitzer.
JOHN EDGERTON * WRITER, PRODUCER
John Edgerton is an Entrepreneur, the CEO of Cinemarquee, Co-Partner of Celestial Attic Entertainment LLC and a former Co Partner in a Beverly Hills production company Infinite Entertainment LLC with Co Partners Producer Carter De Haven, Producer Daniel Sherkow and Media Executive and Film Financier Dan Greitzer. With Cinemarquee partner Dan Greitzer, Mr. Edgerton raised the funding and both were Co-founders of Infinite Entertainment LLC a Motion Picture corporation and Satellite Distribution company. He sat on the Film Financing Board and Motion Picture Production board.
DAN GREITZER * EXECUTIVE PRODUCER
Dan Greitzer is an Entrepreneur, Media Executive, Co-Partner in Celestial Attic Entertainment LLC., Co-Partner, a Film Financier and President of Cinemarquee (a Film Consulting Firm) and Executive Producer and Co-Producer of "The Serial Killers' Club". Mr. Greitzer is a former partner in the Beverly Hills Production Company, Infinite Entertainment LLC, with co-partner Producer Carter de Haven, John Edgerton and Producer Daniel Sherkow.
We are now dedicating our time to our first motion picture. We are seeking direct financial partners for the incredible motion picture "The Serial Killers' Club". We are also seeking direct financial partners to put together a film fund to finance some amazing motion pictures we have in development. If interested, please send us and email or call our number and ask for John 208-602-5115.
Logline: Two ordinary guys accompanied by a former Green Beret must find their inner-heroes when they leave their ordinary world to rescue a friend and survive being stalked by the most dangerous Serial Killers in the world - - The Serial Killers' Club.
Welcome Dreammakers, to THE CINEMARQUEE'S PRODUCER'S CAFÉ: ... where all dreams are possible and where Heroes and villians that were, always will be. Sit back now in a soft lounge chair, with your favorite merlot or cappuccino and a favorite friend, and drift with the fog, filling your imagination with the theatrical dreams that were and always will be. We Directors and Filmmakers are creators of worlds, dreammakers and sculptors of the imaginary, carving characters and worlds out of thought, and bringing forth through the magic of illusion ...that which might be, and for two hours of precious time...is ... if but for a moment.

The ultimate resource for the entertainment industry, making the most useful content on the web easier to find and utilize.

Lists contact information for the entertainment industry, locate TV & film producers, find agents, managers, movie studio & television executives, distributors & new media companies, hollywood job board lists employment opportunities available in show business.

A growing centralizing International Link system of Theatre & Film Producers who are of the Performing arts, Entertainment Industry and to all the individuals expertise who are of the Performing Arts, Entertainment Industry Worldwide.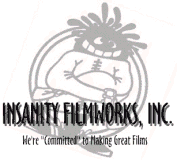 Insanity Filmworks, Inc. (I.F.) is an independent, motion-picture production company, dedicated to making good films that are both cinematically fulfilling as well as commercial in appeal.
---
Other Cinemarquee pages that would interest Producers:
---
Home | Main Menu | Add URL | Magic Lantern | Search |
Producers | Lawyers | Celebrities | Guilds | Crews | Film Resources | Security | Psychologists | Magazines | Festivals | Film Directories | For Sale | Entertainment Investments | Computer Investments | Sci-Fi | Music | Screenwriters | Literature | Theatre | Playwrights | Tickets | Circuses | Fundraising | Games | Souvenirs | Attractions | Chat Client
Copyright © 1997-2017 Cinemarquee. All rights reserved.
The Cinemarquee website contains links to other sites, but we are not responsible for the content or practices employed by the linked sites. We do not link to adult-oriented sites. At the time that each site is linked to the Cinemarquee pages, it is confirmed to be as defined within our pages, but we have no control over the linked site after that. If you find a link is not as we described, please let us know, and we will correct/remove the link.